Note: This article originally ran in the May 12th issue of the Peoria Journal Star.
[lede]The speaker at this week's transportation seminar at the Gateway Building noted that the $21 billion that's been reported as what Illinois needs annually to repair crumbling infrastructure may be a low-end estimate.[/lede]
Regardless, Illinois isn't going to find $21 billion for maintenance projects, said Chuck Marohn, president of the Minnesota-based Strong Towns, a 501(c)(3) non-profit organization.
"Illinois already has an acute funding problem and now, instead of funding infrastructure projects with 80 percent federal money and 20 percent state, the latest infrastructure program from the federal government proposes to provide only 20 percent of funding with 80 percent having to come from the state. It's a preview of what's to come," he said.
Welcome to a new age in the rebuilding of America, said Marohn, an engineer who says that we can no longer afford to keep building infrastructure. Nothing less than a new approach to government is required — one less focused on generating short-term growth and more aligned with long-term financial stability, he said.
Marohn, author of "A World Class Transportation System," made presentations on Wednesday night and Thursday morning in programs sponsored by the Tri-County Regional Planning Commission and the Peoria-Pekin Urbanized Area Transportation Study group.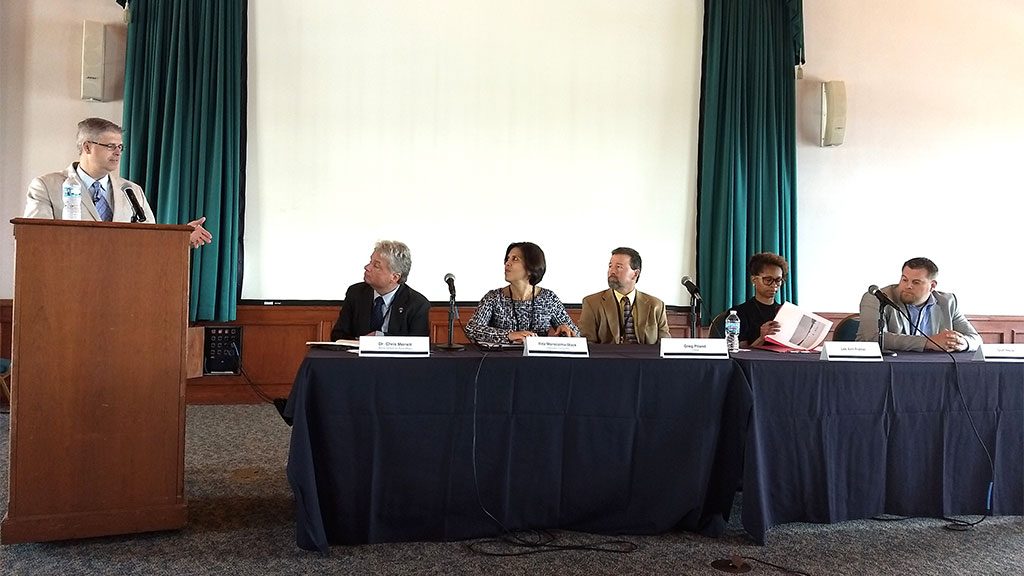 He also moderated a panel discussion Thursday with Chris Merrett, director of the Illinois Institute of Rural Affairs; Rita Morocoima-Black, planning director with the Champaign County Regional Planning Commission; Greg Piland, safety programs specialist with the Federal Highway Administration; Lee Ann Prather, bicycle/pedestrian coordinator for the Illinois Department of Transportation and Scott Reeise, Peoria's public works director.
Marohn's advice for cities is to do what they can with the resources they have. "You should always be looking at the next, smallest thing you can do," he said.
More and more, local decision-making and funding will be key as to what infrastructure needs should be taken care of, said Marohn, named one of the top most influential urbanists of all time in 2017 by Planetizen, the Los Angeles-based planning agency.
When Time magazine did an article on Marohn in 2014, the headline read: "The Suburbs Will Die: One Man's Fight to Fix the American Dream." Instead of looking to suburban neighborhoods with their manicured yards and extended streets, Marohn suggests focusing efforts in the downtown.
"Today, the most financially productive places in most cities tend to be their core downtowns, as well as the neighborhoods built prior to the Great Depression," he said. Marohn is well aware that those older neighborhoods often correlate with poverty.
That philosophy hit home with Mark Misselhorn, the local architect who chairs Peoria's Downtown Advisory Commission. "Marohn points out the critical importance of the downtown, as an economic engine and employment center," he said.
Misselhorn said Marohn's message recognizes a new reality when it comes to funding projects. "No one's going to save you. For locally-funded projects, it will be incremental-scale development. Projects will take longer but they'll be more sustainable," he said.
Ray Lees, Tri-County's planning program manager, called Marohn's presentation "thought-provoking" and "sobering." "He told us that the economic equation we've used in the past is not going to work anymore," he said.
Steve Tarter covers city and county government for the Journal Star. He can be reached at 686-3260 or starter@pjstar.com. Follow him at Twitter@SteveTarter and facebook.com/tartersource.
Note: This article originally ran in the May 12th issue of the Peoria Journal Star. The article mistakenly identified Strong Towns as a consulting firm instead of a non-profit organization.