Hazard Mitigation Planning
Planning for the worst
This page contains information about TCRPC's hazard mitigation planning efforts
What is hazard mitigation planning?
No region is immune to natural hazards caused by geographic, climate, or weather-related events. The natural hazard mitigation planning process involves collaborating with regional stakeholders such as Emergency Management Agencies, public health facilities, hospitals, and assessors to effectively plan for a natural disaster before it happens. In the Tri-County area, that requires planning for tornadoes, floods, winter storms, and other such incidents.
Where does TCRPC come in?
Tri-County has partnered with American Environmental Corporation to produce a new update, featuring more participating jurisdictions than the previous version. The planning process has been ongoing since August 2017.
Fifteen jurisdictions throughout Peoria, Tazewell, and Woodford counties are participating in the planning process:
Village of Germantown Hills
Village of Peoria Heights
To start the planning process, the Mitigation Advisory Committee, or MAC, was formed and met on five separate occasions: October 2017; March 2018; June 2018; September 2018; and January 2019. During these five meetings, the MAC discussed past natural hazards, dollars of damage, and potential projects that will mitigate future damage from events such as tornadoes, severe storms, floods, and drought.
Through this process, the MAC has identified over 180 regional projects and activities that have the potential to alleviate future regional damage from natural hazards. These preventative steps, such as conducting studies, hardening infrastructure, designating shelters, developing educational materials, and evaluating critical facilities, can potentially save the region money, reduce property damage, and limit loss of life.
The draft Tri-County Multi-Jurisdictional Natural Hazards Mitigation Plan is available for public review. Please see the below sections of the plan.
Tri-County Multi-Jurisdictional Natural Hazards Mitigation Plan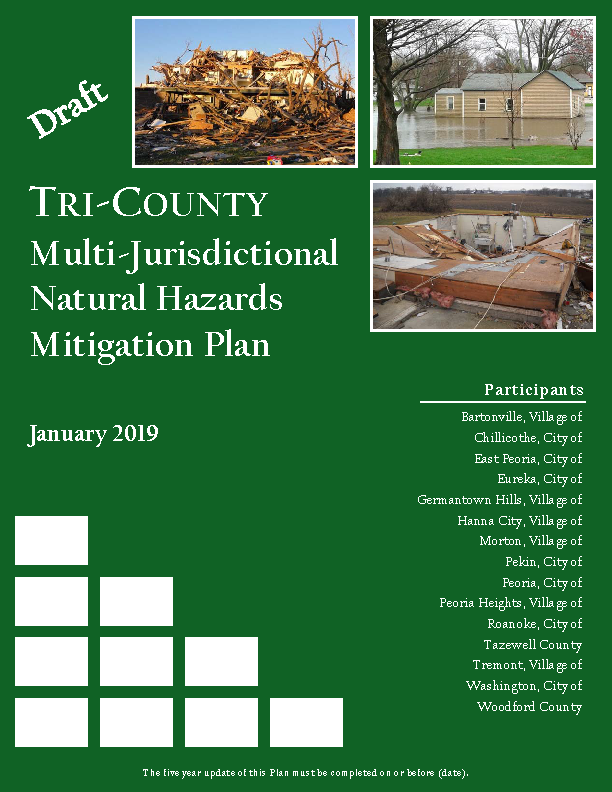 Has TCRPC been involved in hazard mitigation planning in the past?
The Tri-County Regional Planning Commission has produced two plans, one in 2004 and an update in 2010, both in partnership with the consultant Dewberry.