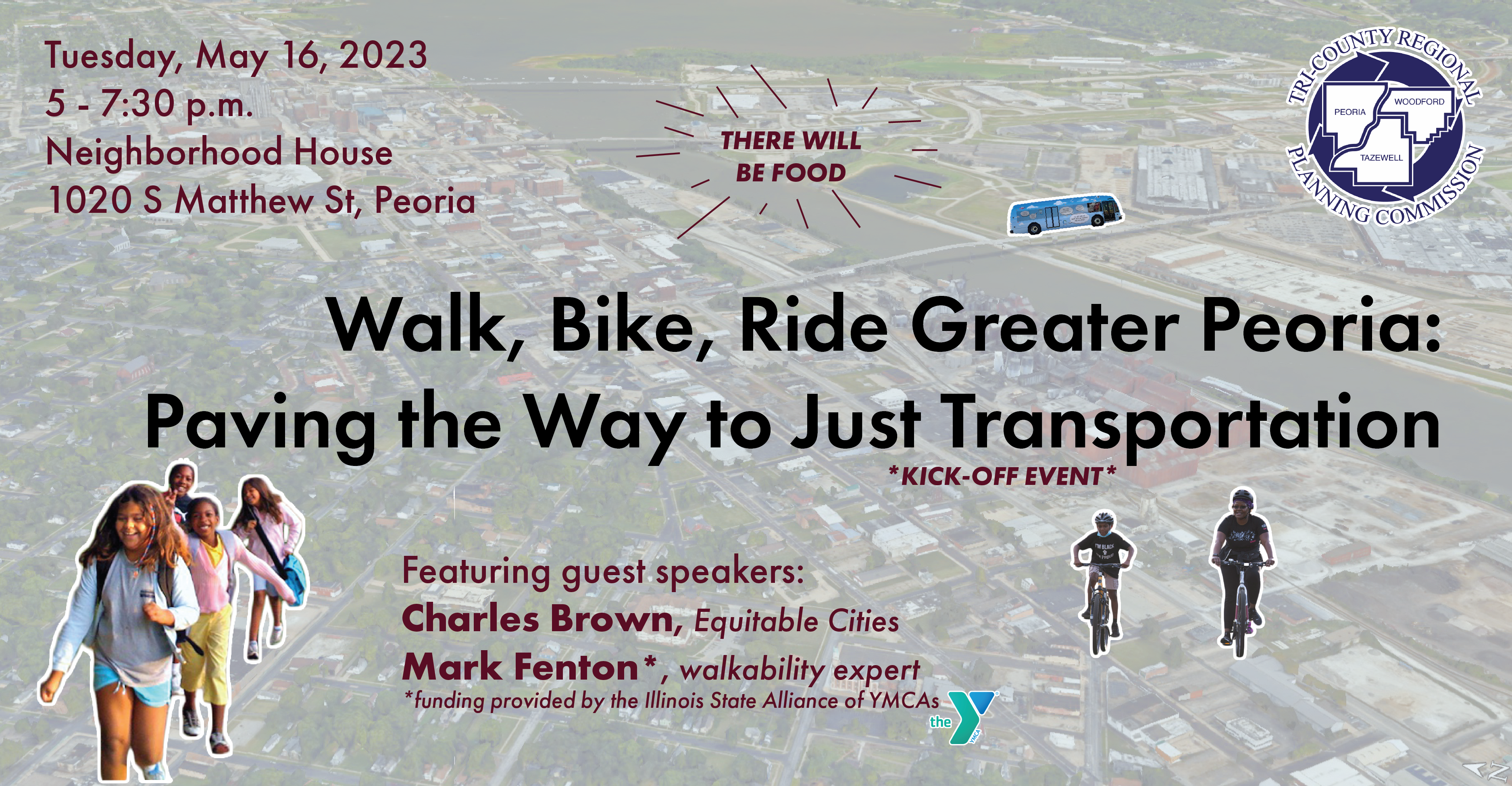 Walk, Bike, Ride Greater Peoria: Paving the Way to Just Transportation
Date: May 16, 2023
Time: 5 – 7:30 PM
Location: Neighborhood House
1020 S Matthew St.
Peoria, IL 61605
Arrival & Entry Information
Entry to the event is at the doorways along the south side of the building, along Garden Street. Please do not enter through the Neighborhood House main entry. CityLink's Route 13 – South Adams stops near the Neighborhood House at the intersection of Matthew and Garden. Bike riders can park their bicycles at the bike racks at the Neighborhood House main entry and the Heartland Health Facility entrance across Matthew Street.
Want to learn about Tri-County Regional Planning Commission's next project? Ever wonder how our transportation network is planned?
Discover the answers to these questions and more at Walk, Bike, Ride Greater Peoria: Paving the Way to Just Transportation. An evening with nationally-acclaimed transportation experts Charles Brown and Mark Fenton. The event is open to all and free to attend. Register today! 
Join Tri-County staff as we embark on critical conversations about inequities in our transportation network and opportunities to improve it. But most importantly, come and provide your input to help make the regional transportation network more beneficial for all users. Your input will be used to help lay the framework for Tri-County Regional Planning Commission's latest transportation plan that will prioritize strategies and funding for improvements to our walking, biking, and mass transit system. 
From 3:30 pm to 4:30 pm, there will be an optional component for attendees to participate in a walk audit, or an informational walking tour and discussion. Participation in the walk audit will be limited, and priority will be given to community members who register.