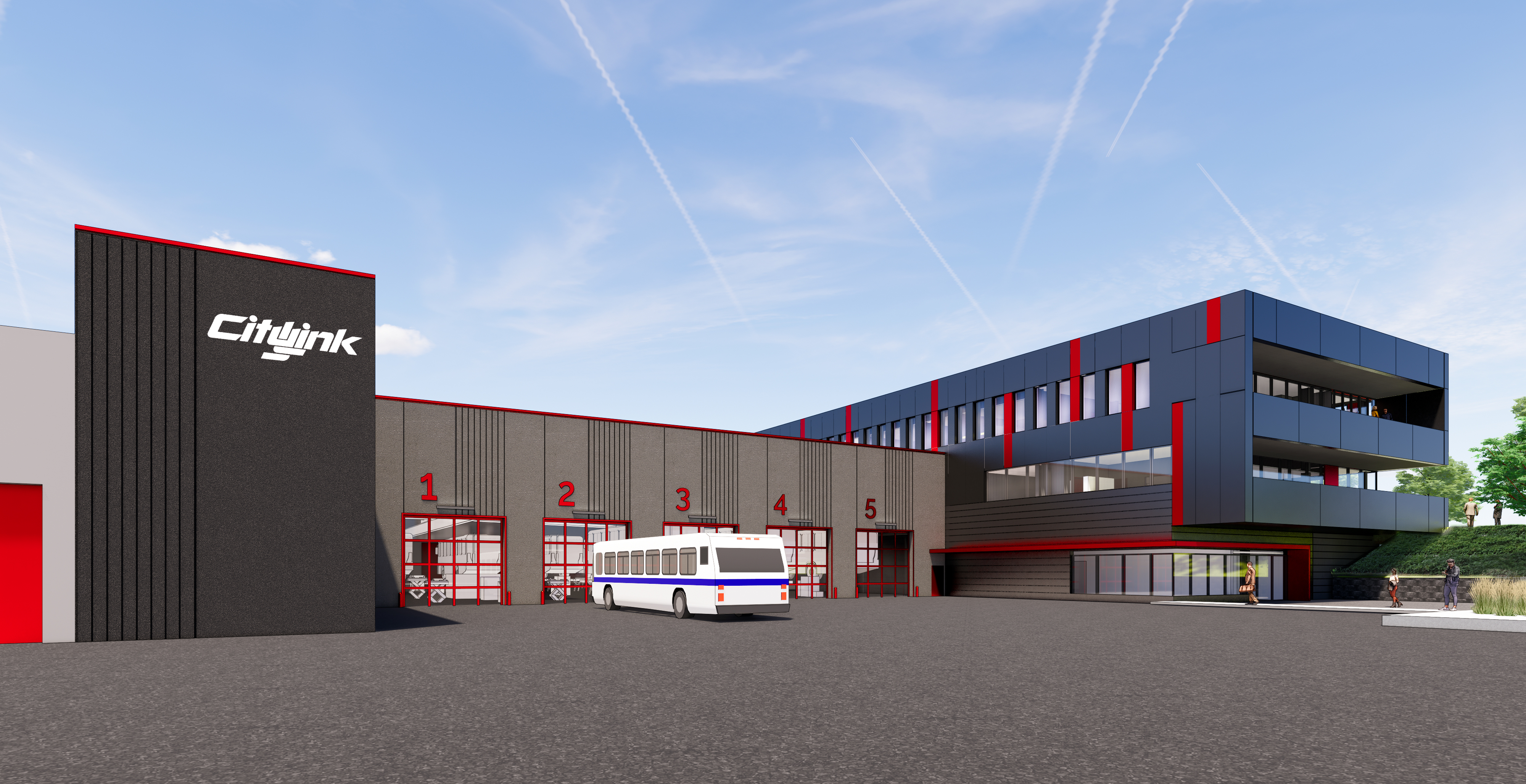 Bus Maintenance, Bus Storage & Operations Center Peoria, Illinois
Update about one of TCRPC partner's facilities
The Greater Peoria Mass Transit District (GPMTD) is currently realizing their bold vision to completely rebuild their Maintenance and Operations Center located at 2105 NE Jefferson in Peoria.   Muller & Muller, Ltd (M2) was awarded the architectural/engineering contract in January 2020 and River City Construction (RCC) was awarded the construction management contract in March of 2021.  
GPMTD's existing facilities are beyond their useful life, necessitating a complete overhaul.   This project presented numerous site constraints that needed to be resolved, including: a floodplain to the south along the south boundary; significant grade changes to the west and north of the site; and an existing fuel island in the center of the site.  Due to these site constraints, the most optimal location for the new maintenance garage is in the same location as the existing. However, operations of the maintenance garage were required to be maintained without disruption.  M2, RCC and GPMTD worked collaboratively to develop a detailed phasing strategy, to allow for continuous operations during construction.
The first phase of the project was the construction of a new paint and body shop which was substantially completed in Summer of 2022. During construction of the main facility, the paint and body shop accommodates other maintenance functions and an additional temporary maintenance shop is accommodated in an existing storage facility. Separating the paint and body shop from the maintenance shop was desirable from a long-term operations viewpoint.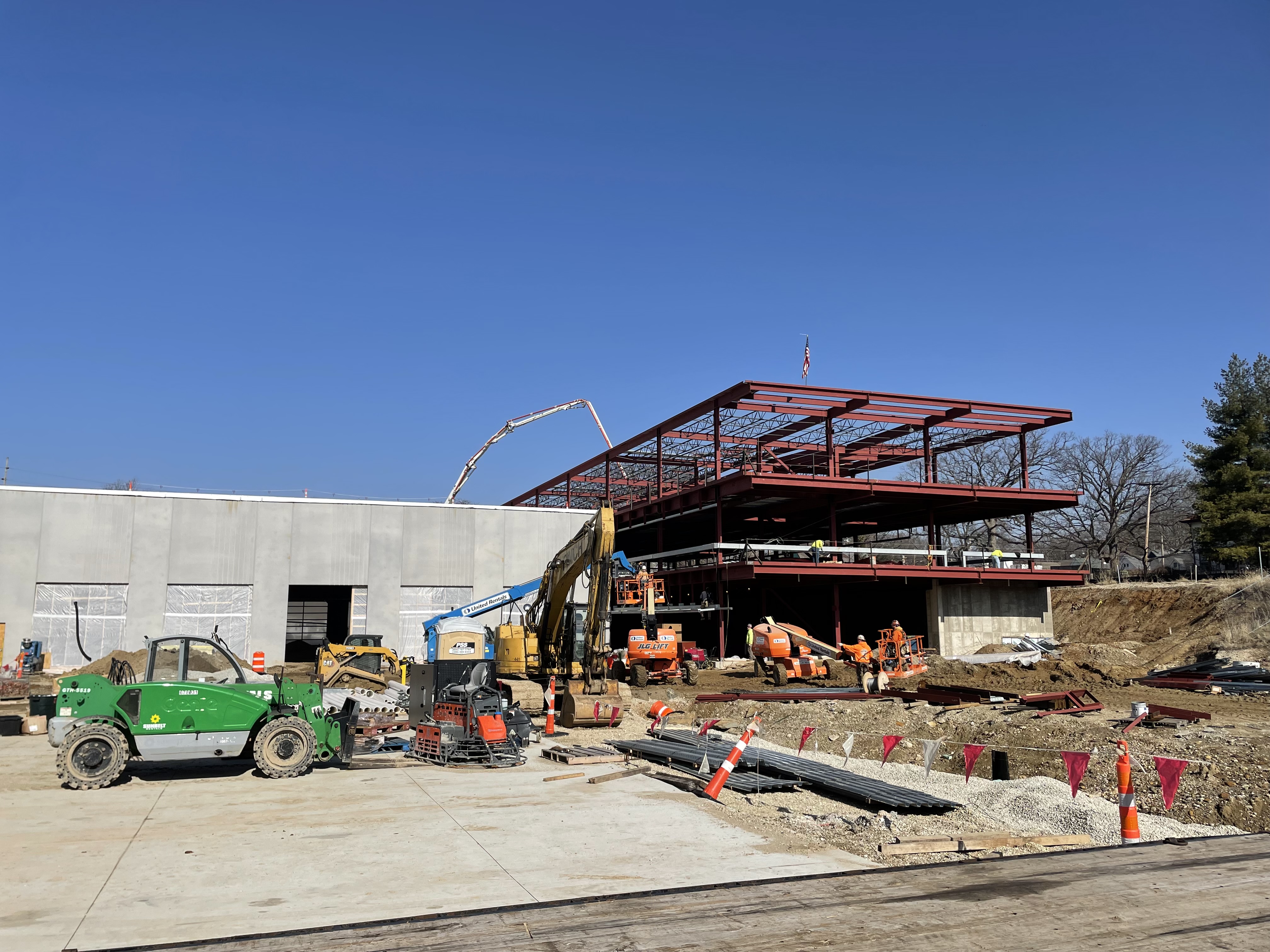 *** End of Newsletter Excerpt ***
The second phase, currently under construction, is GPMTD'S new Maintenance Shop and Operations Center.  The new Maintenance shop will enhance operational efficiency with a new 5-bay pull-though tandem arrangement, with new vehicle lifts and a crane bay. Support services include a new loading dock, parts room, foreman's offices, locker rooms, break areas, tire storage carousel and support shops.
Situated above the maintenance support areas is the new Operations Center.  Designed to improve over-all efficiency as well as increase staff capacity with the following features: new board room, training room, bus simulator training room, operator's day room and operations office.  A new employee and visitor parking lot is also under construction and due to the natural terrain of the site, this parking lot will have a direct connection to the second floor, completely separating vehicular traffic from bus movements. The second phase, which is phase B, of construction is expected to be completed by October/November of 2023.  
The final phases, which are C & D, of construction are anticipated to start construction in Fall of 2023 and will include expand capacity for bus storage, to fully accommodate enclosed bus storage, including several all-electric buses. Once finished, this project will successfully realize GPMTD's goal of sustainability. With over half of its roof surface covered in photovoltaic panels, the new facility is set to harness renewable energy and provide up to 40% of its own electricity for the GPMTD's upcoming electric bus fleet charging stations.
The entire project is expected to be completed by December of 2024.  The envisioned campus will serve as a striking new addition to Jefferson Street, something that the entire CityLink staff and the surrounding community can be proud of.  Most importantly, the new facility will provide the much-needed maintenance and administration facilities needed to run a modern bus system.  The entire CityLink community will benefit from streamlined operations and improved maintenance operations that this project will support.  This critical investment will ensure public transit will continue to run for decades to come.